Mini Recycled Travel Backpack
Mini Recycled Travel Backpack

Measurements
SIZE: 12"W X 15"H X 5"D VOLUME: 18 LITERS MAIN COMPARTMENT + THREE EXTERIOR POCKETS ADJUSTABLE STRAPS
Every Bag Uniquely Yours
Every backpack is one-of-a-kind! The burlap pieces are recycled from authentic Indian rice bags. Expect slight imperfections. Between fabric, the seamstress who made it, the family who received the rice, and you, every bag has a different story. You are giving life. You are a part of the story. Each bag is made of recycled materials. Expect the same color scheme but variations in design and patterns.
Recycled = Eco-Friendly
Handmade from used jute/burlap rice bags, the bags in the Recycled Collection are made from plant-based fibers, are biodegradable, and eco-friendly. Our recycled bags have the natural smell of jute/burlap. We keep discarded rice bags out of the landfills and give them new life! Buying this bag helps preserve the earth's resources! Good karma. Good vibes.
What You Are Giving
Your purchase of this bag provides 1 kilo (2.2 lbs) of rice to a family in need in India. Indians typically eat rice three meals per day. 1 kilo will last the average family of four a little over 1 day (4 people x 3 meals = 12 meals total). We give away 25 kilos of rice at a time. 25 items = 25 kilos. This typically gives families about a month of rice! Buying this bag feeds families!
Best Uses & Care
This is a lightweight backpack designed for day use. Great for packing a sweatshirt, laptop, food, and more. This is not a heavy duty pack. It is not designed for extended trips or to be filled with heavy items, such as multiple textbooks, multiple water bottles, or heavy gear. Recycled bags may be hand washed or spot cleaned and air dried. Please do NOT machine wash or machine dry.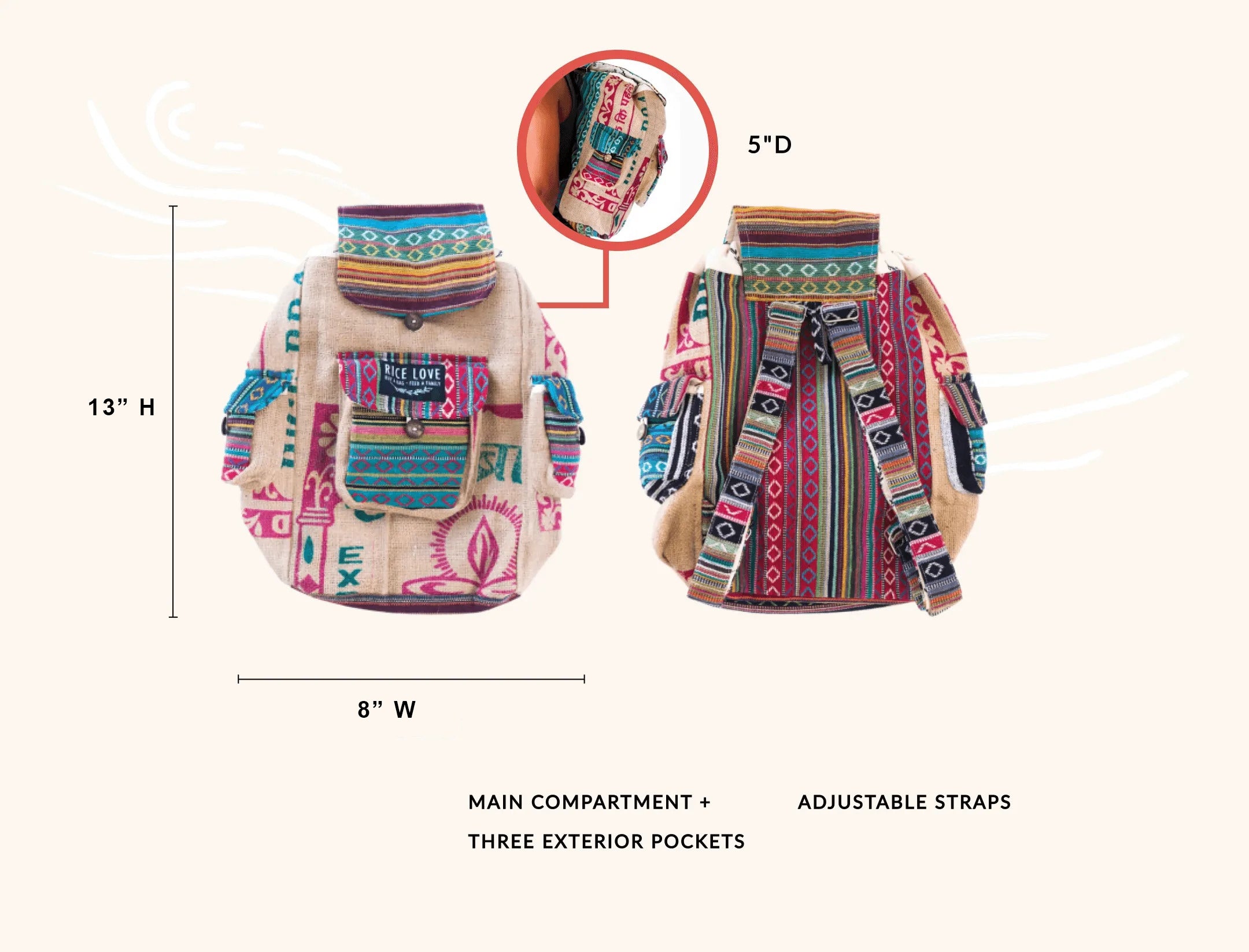 How it Works
Relax your mind and boost productivity in three easy steps:
ONE FOR ONE
One bag, one mission. For every bag we make, we hand-deliver 1 kilo of rice to a family in need.
GET YOUR NUMBER
Each bag is tagged with a unique number to represent the kilo of rice that you gave, and shipped to the USA.
SEE YOUR FAMILY
Enter your unique tag number online to see the family you helped, and feel the love from across the world!
THE PROOF IS IN THE SMILES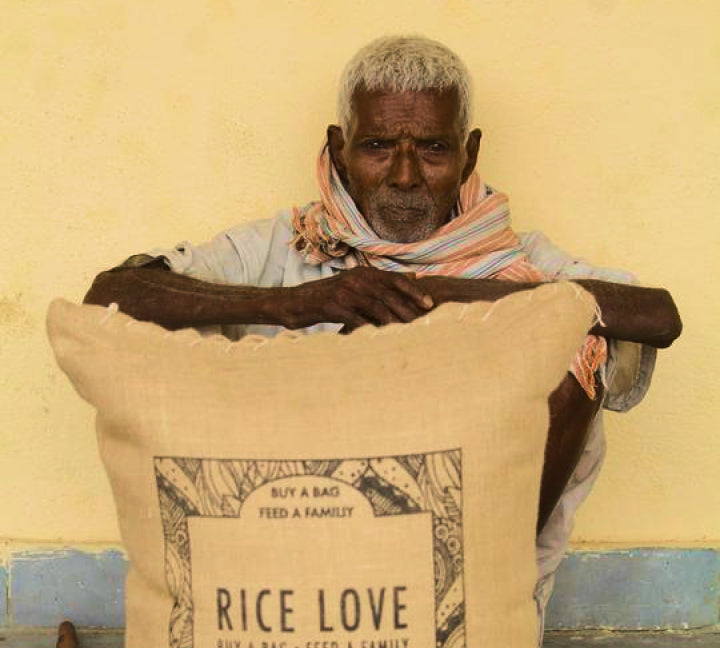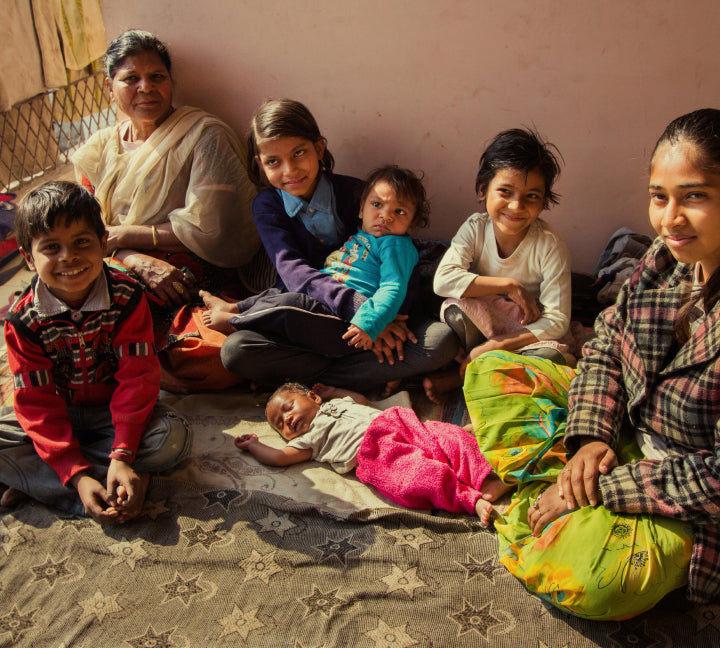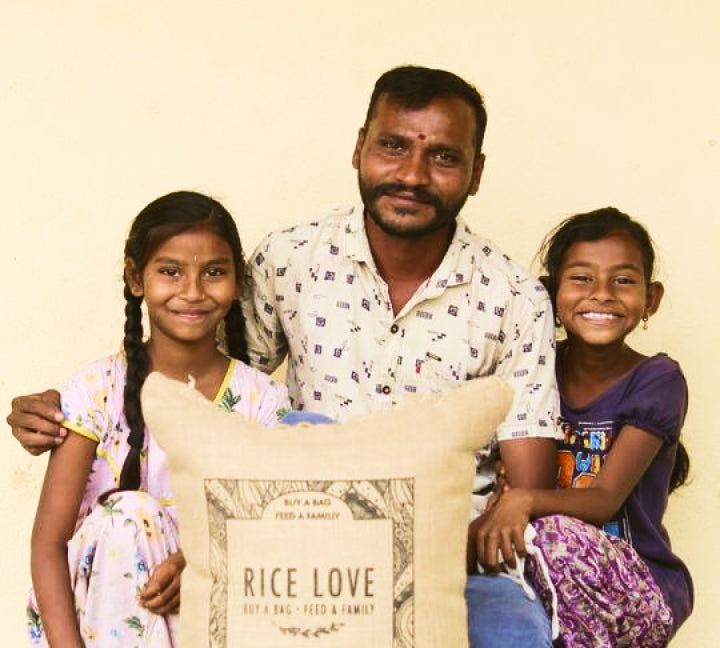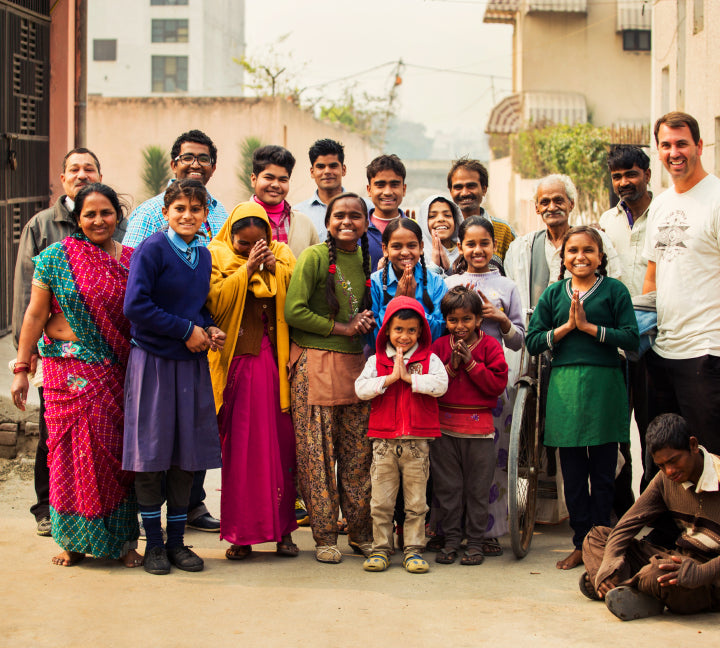 FEEDING THE PEOPLE WHO NEED IT MOST
FEEDING THE PEOPLE WHO NEED IT MOST
Rice Love was born out of our passion to do good by people and the planet. For every item we make, we provide a kilo of rice to a family in need and we're committed to showing you the proof. Use your unique tag number to find the photo and story of the family that YOU helped feed, and see just how much your contribution means to them.
STYLISH & SUSTAINABLE
We hand make our bags from recycled jute/burlap rice sacks for an authentic, original look. All of the items from our Recycled Collection are made with plant-based fibers that are biodegradable and safe for the environment.
With your Rice Love bag, you can help reduce the build up of waste and look good while doing it.
Good karma. Good vibes.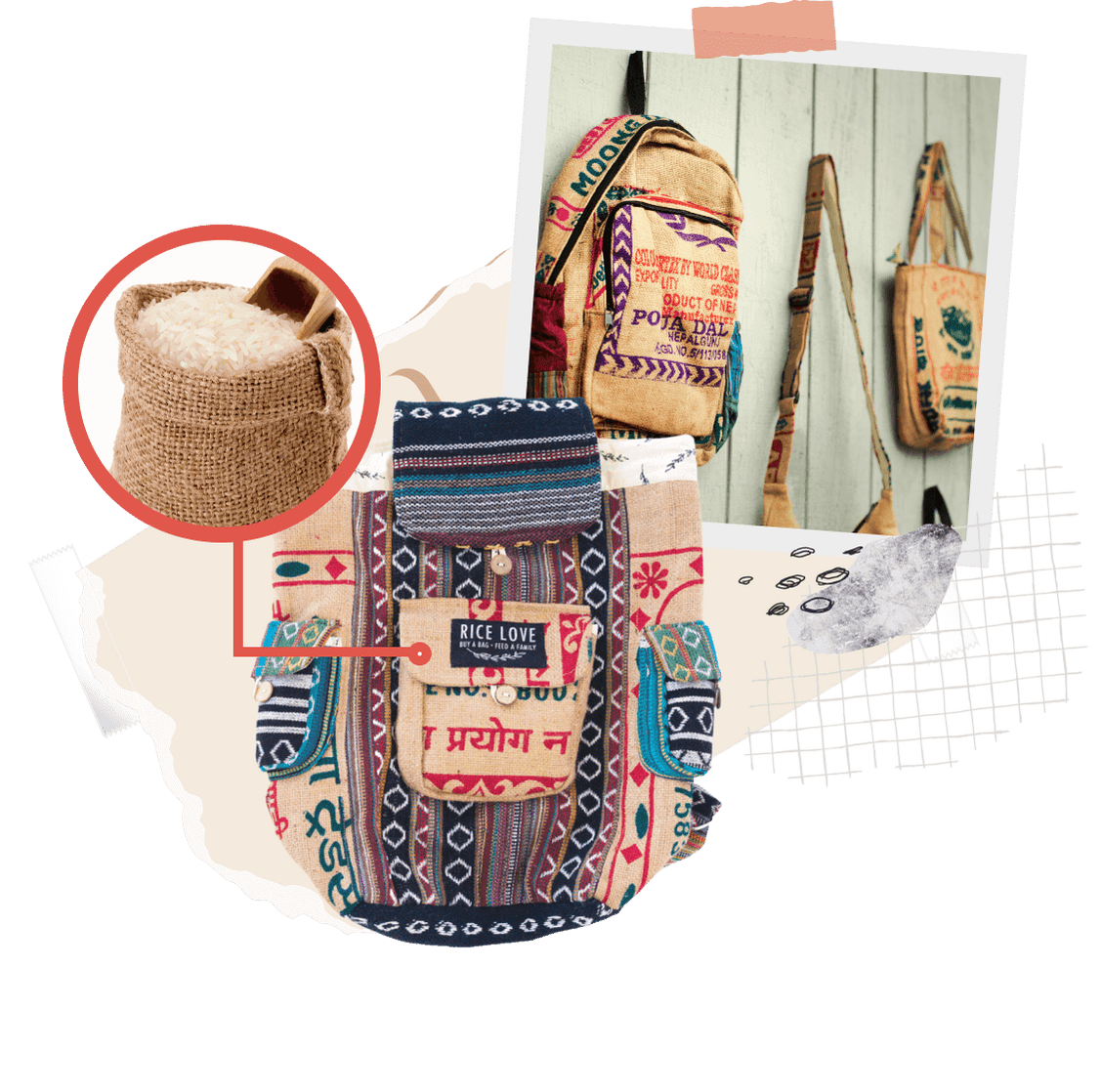 JOIN OUR COMMUNITY
Be the change you want to see in the world. See how thousands of people like you are spreading the love and making a lasting impact for families in need.
E
Elizabeth Black
LOVE!!!
Loved the wallet & love that it helps families!! Will definitely be buying more.
D
Deb Crosby
AWESOME BACKPACK
Backpack is light weight and has come on many adventures with me. It can hold lots of stuff and is a quality product. It came with beautiful packaging and I'm so happy that I was able to buy the backpack and donate to a great cause
H
Hima Vora
LOVE IT
This is really a beautiful & colorful bag! I use it as my travel bag pack!
M
Mary Jensen
Love my bag
It is great. It is durable, absolutely beautiful and has pockets for everything!
Frequently Asked Questions
Do you only give to families?
No. We give to single mothers, older women, etc. However, we focus on giving to families. There are many organizations that help children, the old, and the disabled. We focus on the family because they are mostly overlooked. Millions of families in India struggle to get by financially. By supporting the family, we support the children, and the future.
Do you only give 1 kilogram (2.2 pounds) of rice per family at a time?
No. Giving 1 kilo of rice at a time would have little impact. Instead, we give 25 kilos of rice at a time. For every 25 items we produce, we hand-deliver a 25 kilo bag of rice. For example, if each customer only purchased 1 item, it would take 25 customers to give 25 kilos of rice to one family. 25 items made = 25 kilos delivered. The majority of our giving is managed by our partner Philip Pulla.
How often do you give rice?
We don't wait until our bags sell, to give. Instead, we give while we make our bags. For example, if we make 100 bags, we deliver 100 kilos of rice by the time we ship the bags from India to our warehouse in the United States. By the time our bags are stocked at our warehouse, we have already completed the giving. In most cases, we have the recipients photo and story posted to our giving blog before you buy a bag so that it is ready to read as soon as you get your bag!
How much does it cost to give 1 kilo of rice?
The cost of giving 1 kilo of rice represents 20%-40% of the cost of each product. A lot more goes into giving than you might think, especially when you make the extra effort to make sure you are giving the right way. Here is what you are giving when you buy a Rice Love product: 1. Rice purchased from local markets rather than wholesalers 2. Higher quality rice than average 3. Jobs for our local employees. We don't rely on volunteers or foreigners. We have a paid local giving team that travels to villages, meets with village leaders, meets with families with true needs, buys the rice locally, takes photos, gather stories, creates blog posts. This is an intensive process. It's not cheap or easy, but we are proud that we can accomplish so much and share the journey with you.
Where do you give?
We are currently giving in India. The only exception is that we sell a Pineapple bag which provides 1 kilo of rice to the homeless of Hawaii through IHS (Honolulu based homeless shelter) and the Hawaii Food Bank. We plan to give elsewhere in the future.
How do you choose to whom to give?
We have partnered with a former farmer named Pulla, who travels to villages around India (currently near Hyderabad). Pulla meets with the village leader and explains what Rice Love is and how it works. He asks permission to help families in the village based on the leaders recommendation. The leaders identify families that are struggling due to job loss or illness. Pulla interviews each family one by one. With the permission of the family, Pulla's assistant writes down their story and takes their photo. If the need is sufficient, the family is given a token which can be redeemed the following week for a 25 kilo bag of high quality rice.
Our promise
We stand wholeheartedly by the quality of our products. If you're not satisfied with your backpack, we'll return it for you within 30 days of purchase.
We stand wholeheartedly by the quality of our products. If you're not satisfied with your backpack, we'll return it for you within 30 days of purchase.
Mini Recycled Travel Backpack
Mini Recycled Travel Backpack